Expanded Aerospike Connect Product Line
Now even easier to integrate Aerospike with Enterprise-wide data stores via enhanced Connectors for Spark, Kafka, JMS, and Pulsar.
Choice for Real-time Active-Active Architectures
Aerospike provides options for digital presence across geographies, whether on-premises data centers, or the zones represented by the public cloud vendors, or a combination of both. Aerospike supports two distinct active-active deployment models, multi-site clustering (MSC) and cross datacenter replication (XDR) for building a global data hub.
Business processes can be transformed by a superior ability to gather intelligence, make decisions and process large volumes of operational data in real-time. Traditional NoSQL systems have unproven consistency, relational systems don't have the performance, and mainframes are costly and cannot reach internet scale. Aerospike overcomes these challenges plus can be easily and flexibly deployed across your data architecture.
Benefits of our NoSQL Data Platform
Five-9's+ of uptime
Dynamic Cluster Management
Multi-site clustering with strong consistency
Global distributed transactions
Patented flash-optimized storage layer
Supports high data ingestion rates with real-time ML based decisions
Scales to petabytes
XDR with sub-millisecond reads/writes
Solves server sprawl
Lowers cost using Flash, PMEM instead of DRAM
Can be deployed in any private or public cloud
Serves as a global data hub
Multi-site Clustering
For global, active-active configurations with strong consistency.
Strong Consistency
No data loss. Commit-to-device support for demanding correctness environments.
Cross Datacenter Replication (XDR)
Global, asynchronous replication between clusters creating global data hubs.
Hybrid Memory Architecture
Store data with traditional in-memory, unique Hybrid-Flash, or All-Flash storage architecture to optimize for performance and scale.
Compression
Provides lossless compression of records written to persistent storage.
High Availability & Uptime
High availability and a demonstrated uptime of five 9s or more which is made possible by a unique cluster management and intelligent client technology in addition to local/remote replication.
Smart Client
Automatically distributes both data and traffic to all the nodes in a cluster. Automatic load balancing of the client improves both performance and correctness.
Dynamic Cluster Management
Automatic storage and exchange of node information including changes and status with automated triggers for rebalancing.
Change Notification
Inject change notifications into message queues, or insert them into other databases for reliable and scalable systems.
Multi-Model
Easy-to-program data structures such as lists and maps improve performance and allow indexed lookups on field values.
Enterprise Security
Full transport encryption. Support for encrypted storage and in-database transparent data encryption. Authentication, access control, and exception logging.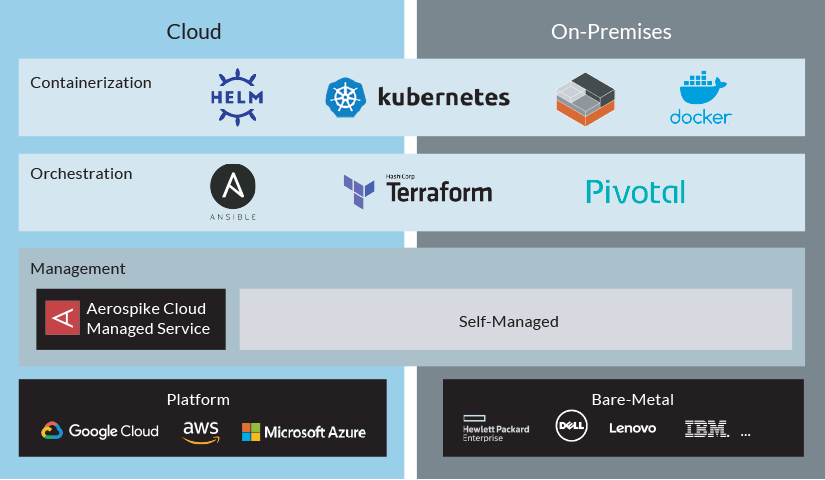 Deployment Options with Aerospike