Success in the world of digital business is now a major imperative for every enterprise. As new digital opportunities are recognized you have to deliver before your competition and evolve faster to gain and maintain your advantage. Competitive pressure and the demands of the always-on real-time pace of business pressure IT operations and resources to the breaking point.
Get Started on the AWS Marketplace
Aerospike Cloud Managed Service is now available on the AWS Marketplace as a private offer with unified billing from AWS with all your other products and services.
Aerospike Cloud Managed Service is built on years of experience architecting and managing Aerospike Databases both on-premise and in the cloud. Our standards-based approach allows you to leverage these proven architectures to accelerate your product launch.
Aerospike Cloud Managed Service allows you to focus on aligning your organizational resources with your goals, instead of using valuable resources and time to design and maintain your Aerospike deployment.
The Aerospike Database comes with a rich set of enterprise security features such as data Encryption (in motion and at rest), Authentication, Authorization and Auditing. The Aerospike Cloud Managed Service leverages these features to provide security and operational controls to comply with your audit needs.
The Aerospike database can achieve an uptime of five 9s. Aerospike Cloud Managed Service combines this reliability with high-availability design principles and operating controls so you can be assured that there will be no interruptions to your business.
Aerospike Hybrid Memory Architecture™️ with All Flash and Hybrid Flash options, coupled with Dynamic Cluster Management, allows the Aerospike database to scale to petabytes. Aerospike Cloud Managed Service will scale with your business and data growth.
Aerospike Cloud Managed Service provides workload profiling to identify the correct capacity plan and optimized configuration templates, which can help customers budget appropriately and avoid unforeseen costs.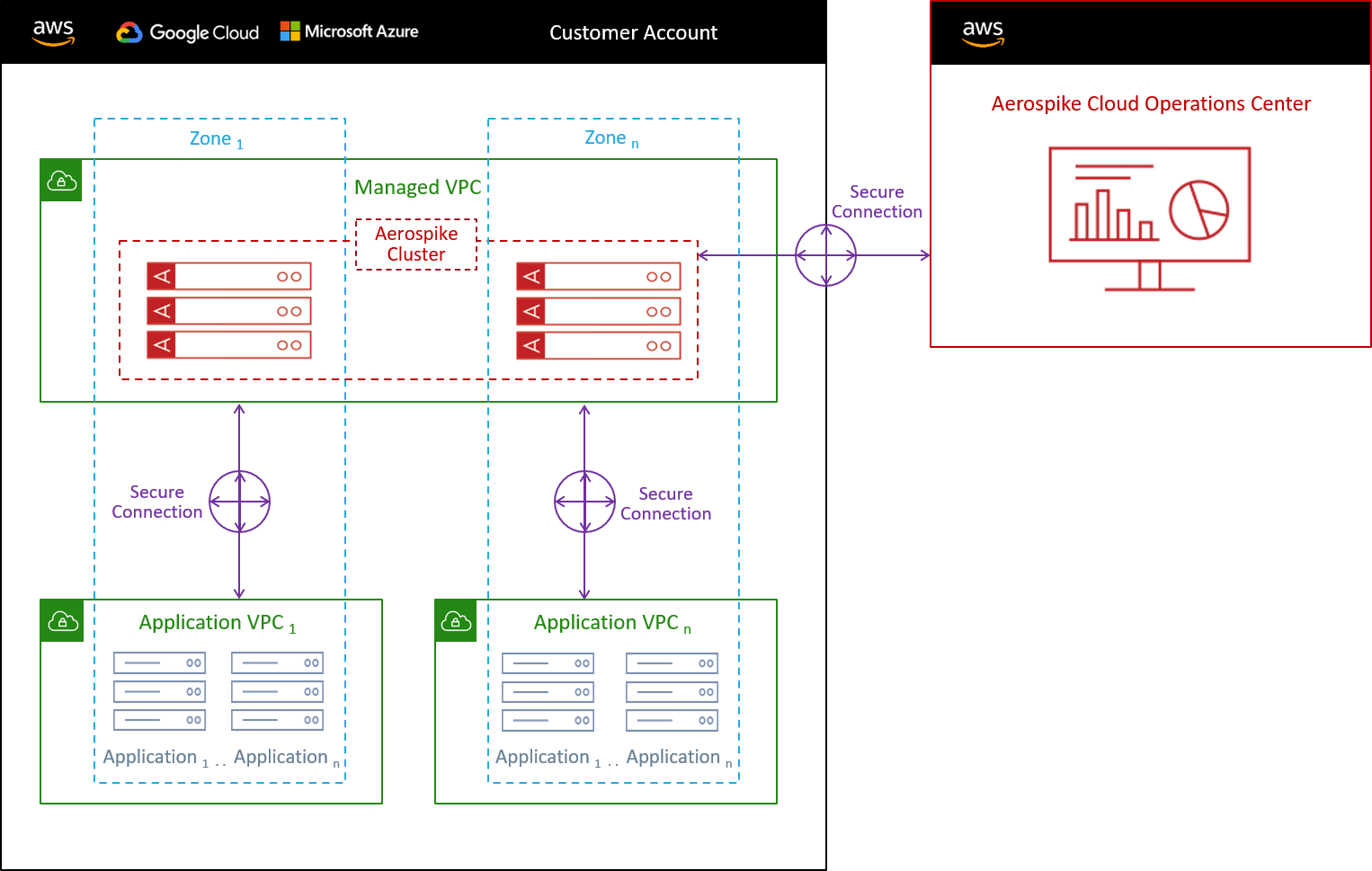 Aerospike Cloud Managed Service
Efficient Onboarding:
Assigned intake team that understands your use-case
Shared project plan to coordinate joint activities
Standardized security checklist to simplify access to your cloud resources
Developer orientation workshop with additional on-demand training through Aerospike Academy
Site Reliability Engineer orientation
Data Modeling workshops available through Client Services
Always-on Architecture and Design:
Data durability is ensured through a multi-zone cluster architecture
Workload profiling identifies the correct capacity plan and optimized configuration templates
Encryption in transit and at rest protects your data at all times
Automated backup and restore plans provide for the continuity of your business
Zero Downtime Operations:
Aerospike Cloud Operations Center provides global always-on coverage 24x7x365
Automated cloud pipeline provides repeatable and consistent operations
Health and performance reports available through dashboards
Security and operational controls provide auditable governance
Frequent runbook execution model used for control validation
Change Requests made at any time through Service Desk
Scheduled quarterly reviews
Follow on engagements available with Client Services for performance or application architecture tuning
Enterprise Ready Deployment:
Encryption at Rest and In Motion
Data Compression
Strong Consistency
Synchronous and Asynchronous Data Replication