With Aerospike Cloud, customers use standard tools across multiple cloud environments to accelerate the development, management and automation of their own Aerospike database-as-a-service (DBaaS).
Aerospike Cloud is based on CNCF standards, which simplifies the deployment, orchestration, management, and monitoring of cloud the Aerospike database across any public, private, hybrid or multi-cloud environment.
Aerospike Cloud significantly reduces development operations costs, freeing resources for more investment in innovations that drive competitive advantage.
Aerospike Cloud gives customers the flexibility to easily deploy and manage Aerospike in any cloud environment. Though Initially optimized for GCP and GKE environments, additional cloud platforms will be supported.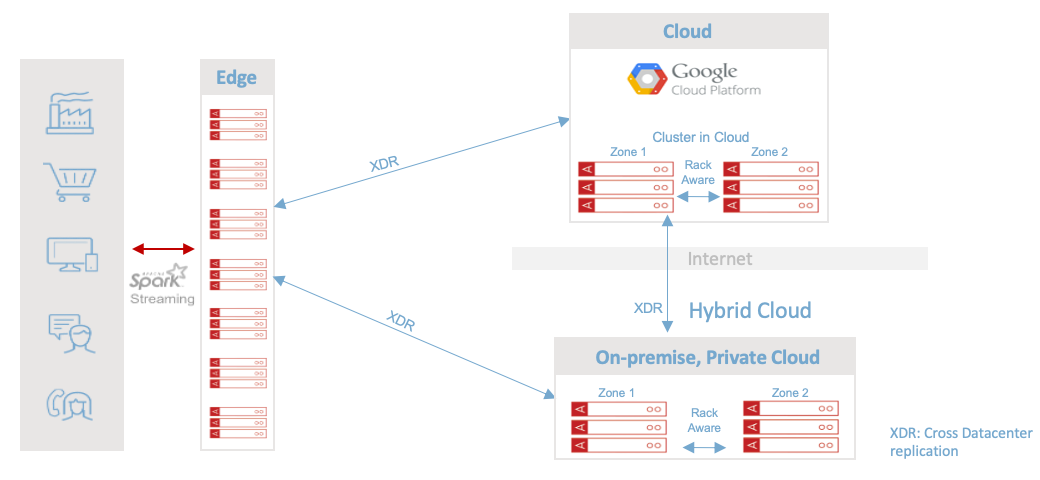 Aerospike Cloud for GKE and GCP
Features & Capabilities
Google Kubernetes Engine (GKE) and GCP utilizing the following features:
Kubernetes Operator:
Custom Aerospike-specific extensions to the Kubernetes API that encapsulate operations domain knowledge.
Helm Charts:
Enables the deployment of Aerospike clusters in a Kubernetes environment using the Helm package manager.
Prometheus:
Integration with this monitoring and alerting solution by way of a custom exporter for Aerospike Enterprise Edition and Alertmanager configs.
Grafana:
Integration with Grafana Labs' open source visualization platform through custom dashboards for the Aerospike EE Prometheus exporter.