Gartner: Nine Best Practices for Privacy and Personalization in Digital Business Customer Experiences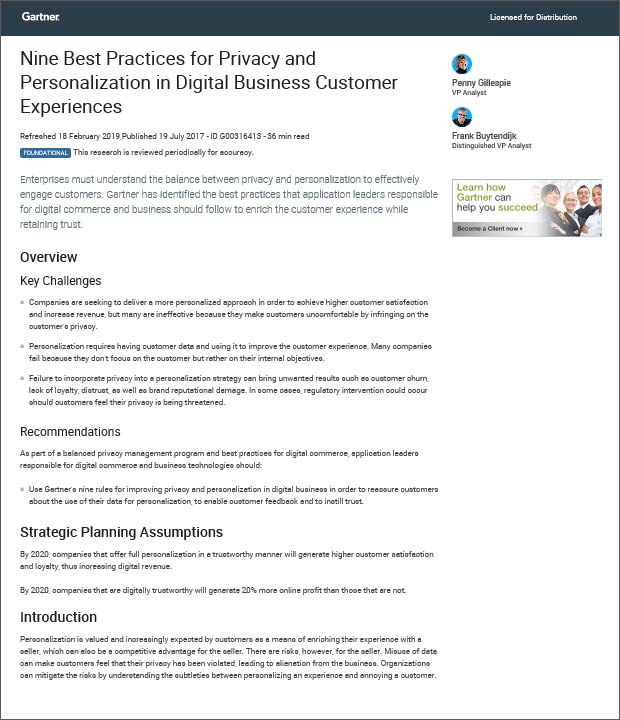 Penny Gillespie and Frank Buytendijk, February 18, 2019
Enterprises must understand the balance between privacy and personalization to effectively engage customers. Gartner has identified the best practices that application leaders responsible for digital commerce and business should follow to enrich the customer experience while retaining trust.
In this report, read how:
Companies are seeking to deliver a more personalized approach in order to achieve higher customer satisfaction and increase revenue, but many are ineffective because they make customers uncomfortable by infringing on the customer's privacy.
Personalization requires having customer data and using it to improve the customer experience. Many companies fail because they don't focus on the customer but rather on their internal objectives.
Failure to incorporate privacy into a personalization strategy can bring unwanted results such as customer churn, lack of loyalty, distrust, as well as brand reputational damage. In some cases, regulatory intervention could occur should customers feel their privacy is being threatened.
Rule 1: Formalize, Document and Broadcast Your Organization's Privacy Policy on Collecting and Using Customer Data
Rule 2: Translate the Privacy Policy Into a Customer-Friendly Statement to Clearly Articulate Your Organization's Policy on Obtaining and Using Customer Data for Personalization
Rule 3: Incorporate Privacy Into Business Processes to Balance Business Requirements With Privacy Expectations
Rule 4: Use Only Data Given to You by the Customer or Widely Known, Publicly Available Information
Rule 5: Continually Align Customer Experience to the Customer's Journey to Deliver a More Personalized Experience
Rule 6: Staying in Context Can Prevent the Perception of Intrusion
Rule 7: Do Not Use Personalization in Sensitive Situations
Rule 8: Communicate Often and Get Customer Feedback on How Well You Are Doing
Rule 9: When in Doubt, Follow the Golden Rule